the Reverend Crystal Rose
I AM an Ascended Master. I have lived life in human form but have not experienced humanity in the same way as others. I discovered at a very early age that I did not see the World with the same eyes everyone else was using. I look at the opposite perspective - I see the gift in every situation.
I have found balance. I live in a world where duality is something others are involved in. I don't understand much of what duality is.
I live in a world that is circular ....I AM my own mirror.
I AM as strong as rock, as hot as the sun, I can be as cold as ice, or flow like any river. I can hit you with the same force as strong winds or caress you gently like a breeze. I stand in the place where lightning strikes.....
I AM a force of nature that stands in the middle of raw truth....I can see where you are stuck in your story but do not have the luxury of being stuck in mine...I see my truth.
I can only show you how I AM....I walk where there are no footprints & leave mine as a path to follow....
I AM Multi-Dimensional & Metaphysical...I AM my own Divinity, walking around in my body...I AM complete & whole....Open- Hearted yet trusting....
I AM the voice of Raphael...of Merlin...& of Thoth..... I channel without filters & like the harsh task Masters they are - it is honest & can be blunt....
My son once said - 'IF you don't believe her....wait awhile- you will figure it out'. It turns out - that statement is more true than even I knew.
I live in grounded spirituality & can share insight into how that looks & feels as you experience your own journey, on your way to realizing that you too have already ascended. I help others as they transition from Soul to Sole.....
I have many tools in my Witch Dr's bag & am happy to be of service when called upon....
I AM and you are also...
WEDDING OFFICIANT
Ordained as a Metaphysical Minister, affiliated with the Canadian International Metaphysical Ministry, I offer Officiant Services in & around Grande Prairie.
Unique & Spiritual will be the focus of the words chosen for your personalized speech, which I leave behind in a keepsake scrapbook. Heartfelt vows are easily created & can be read from a gift card handed to you, or repeated. No crumpled pieces of paper coming out of anywhere they have stashed
:D
I offer Spiritual, Traditional, Non-Traditional, Pagan, Hand-fasting, LGBTQ, Costumed, Cultural, Buddhist, Zen, Wiccan, Celtic & Motorcycle Ceremonies as options. Ancient religions to New Age have many celebrations to choose from that can be incorporated in our Modern day wedding.
Blending families can become a major part of your ceremony if you choose. Including children, celebrating each other's Mother, candle lighting, Sand pouring, Remembering loved ones who cannot attend for any reason can all be incorporated IF you choose.
I can offer creative solutions if you are hitting roadblocks scheduling or creating your perfect day - availability of Officiants is limited in our area.
Last minute or Elopement weddings will be worked into my schedule if possible.
Hand Partings can be a great way to celebrate the completion of a 'Sacred Contract'.
Grande Prairie is where I call home, but this Gypsy loves to travel- additional flat rate fees may apply.
I AM happy to accommodate your occasion & create something special as well as official. Registered in Alberta, with ability to perform weddings in British Columbia,
Ontario, Quebec & most of the US states as well.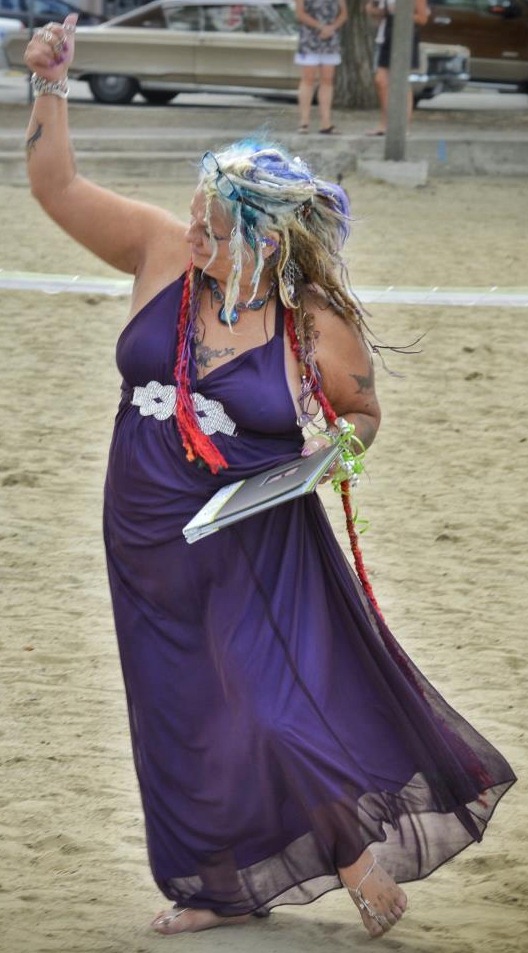 https://www.weddingwire.ca/wedding-officiants/the-reverend-crystal-rose-gypsy-witch-doctor--e7740
OTHER SERVICES
Spiritual Adoulah
*****
Dreamwalker
*****
Celebrations of Life
or Funerals
*****
House Blessing
*****
Baby Blessings
or
Pet Blessings
- working with mom to easily connect with the soul of your unborn babe. This service can be utilized from first trimester until 9 months after birth.
Single sessions can also be available if/when labor seems to be delayed.
Call to discuss what works best for you & your budget.
*************
- for those approaching death, get help learning how to walk thru the transition, easily & without fear of the unknown. This can be started at any time & is continued after crossing until reaching the highest place you wish to be while on the other side.
- a journal of the experience, is provided to loved ones after crossing over, giving them peace of mind, knowing where you are.
Call to discuss possibilities & get your questions answered.
***************
- Remembering loved ones is always a reason to celebrate, albeit with tears. I am happy to accommodate that remembering your way, whether it be traditionally, non-denominationally or filled with pagan rituals.
Always open to celebrating life in whatever format it takes, being able to communicate with souls that have crossed over adds an element of personal touch from the person being remembered.
***************
- When moving into a new home, what better way to celebrate than a gathering of friends offering their blessing.
-Clearing space is a natural gift & sealing it so negativity cannot interfere with the joy within, my favorite past time :) I collect Ghosts, Entities & remove curses....all energetic imprints are erased, so you have clean coherent space in which to reside.
Call to discuss possibilities, whether one on one or a big party....
Remember too, that even a home that has been inhabited for some time likes to be blessed and acknowledged for its part in your human experience.
****************
- What better way to welcome someone into your home, your life & your family than a celebration welcoming them.
-Can also incorporate a Name Blessing within this celebration.
There are so many reasons to celebrate life
while on this planet
before we arrive......
or after we leave.....
it would be my honor to be a part of yours......
**********
www.facebook.com/RevCrystalRose